Did you know some remodeling projects can nearly pay for themselves when it's time to sell? Remodeling Magazine evaluates which projects bring the most recoup at resale in different markets around the country in their "Cost vs. Value" report. While returns have dipped nationwide due to growing costs and consumer anxiety, Seattle still sees a better recoup than the national average. The chart below shows cost vs. value on the most common remodeling projects…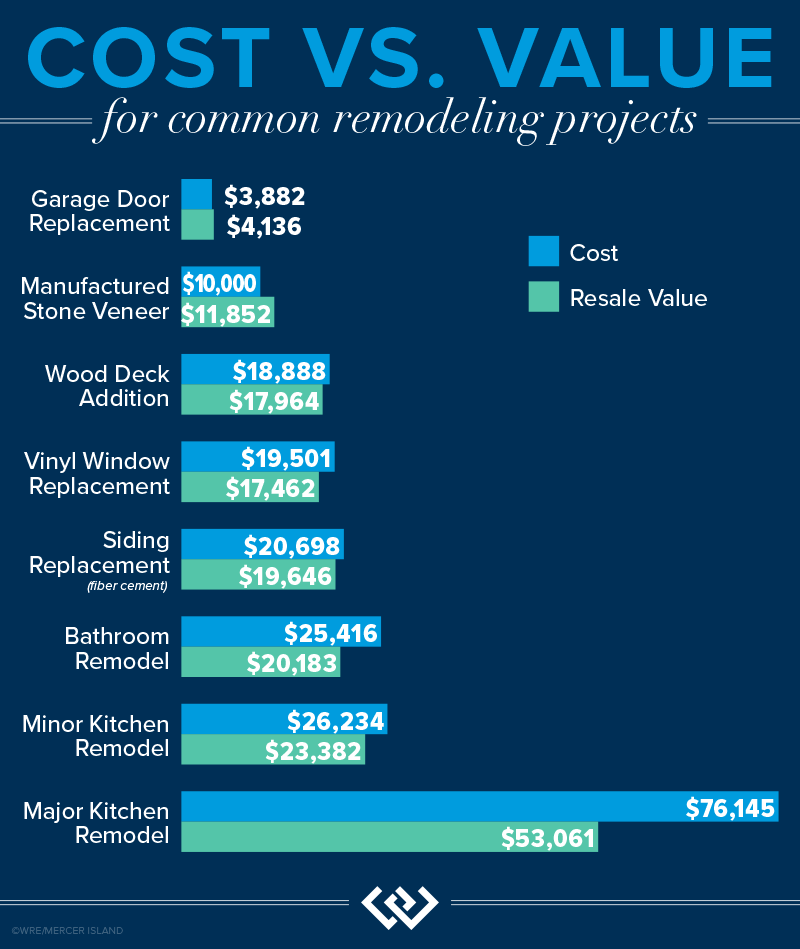 When looking at the full list of projects, curb appeal projects seem to bring the most bang for your buck.
According to Remodeling Magazine, these are the six top projects in our region that currently have the best return on your investment when it comes time to sell. To see the full report, click here.
Manufactured Stone Veneer

As long as the new stone veneer is consistent with your neighborhood's overall look, this siding accent was rated the most profitable project in the Seattle area.
Stone veneer can replace your home's existing siding, adding a fresh, modern look that conjures a cozy vibe all the way from the street, before buyers ever step foot inside. In Seattle it can recoup 118.5 percent of the cost when you sell.
Garage Door Replacement
In the Seattle area, replacing your garage door will cost an average $3,882, but will increase your resale value by $4,136, recouping 106.6 percent of what you paid for it.
Due to its size, a garage door can have a big impact on a home's curb appeal. But adding to your home's aesthetic is only one advantage; the warranty that comes with the new garage door is also a selling point for potential buyers who can trust that they likely won't have to deal with any maintenance issues in the near term.
Wood Deck Addition

While building a deck might seem like a big undertaking, it's actually a pretty cost-effective way to add to your enjoyment and positively impact your home's resale value. Seattle-area homeowners can expect to pay about $19,000, but they'll recoup 95.1 percent of that when they sell.
Adding a deck extends the living space of your home and provides even more area for entertaining, relaxing, and enjoying the outdoors. Whether you choose a natural wood deck or a low-maintenance composite deck, you can pick from a variety of styles based on the lay of your land and the areas of your backyard you wish to highlight.



Siding Replacement



Depending on the size of your home, replacing the siding can be an expensive undertaking. However, it's a project that comes with high returns. For the Seattle area, sellers can expect 94.9 percent of the costs recouped.
Not only is siding one of the first things a buyer sees, but it also serves as an indicator of the overall health of the home. Broken or damaged siding could mean that there are other problems with the home, such as pests and rot. Replacing old siding is a cost-effective way to boost your home's curb appeal and ensure buyers are going to walk through your front door.
New Vinyl Windows



Vinyl windows can add an instant update in both appearance and energy efficiency. The average cost to replace 10 windows is about $19,501 but you'll recoup 89.5 percent of that cost when it's time to sell. If any of your windows are fogged from broken seals then replacement will probably be a must before it's time to sell.
Minor Kitchen Remodel



No need to move walls or appliances around, a minor kitchen remodel will do the trick to recoup 89.1 percent of the cost in our area.
An outdated kitchen can go from drab to fab and become a focal point with a fresh palette. Replace the cabinet doors with new shaker-style wood panels and metal or metal-looking hardware. Switch out the old counter tops with a cost-efficient option that matches the new look. Think about adding a resilient flooring option, then finish the project with a fresh coat of paint to the walls, trim, and ceiling.
---
© Copyright 2020 Windermere Mercer Island. Adapted from an article originally posted on Windermere.com. Remodeling data © 2020 Hanley Wood Media Inc. Complete data from the Remodeling 2020 Cost vs. Value Report can be downloaded free at www.costvsvalue.com.
There are a number of things that can trigger the decision to remodel or move to a new home. Perhaps you have outgrown your current space, you might be tired of struggling with ancient plumbing or wiring systems, or maybe your home just feels out of date. The question is: should you stay or should you go? Choosing whether to remodel or move involves looking at a number of factors. Cost vs. value is a big consideration—click here for the latest Cost vs. Value Report showing the resale value for popular projects in the Seattle area.
Here are some other factors to consider when making your decision…
FIVE REASONS TO MOVE:
1. Your current location just isn't working.
Unruly neighbors, a miserable commute, or a less-than-desirable school district—these are factors you cannot change. If your current location is detracting from your overall quality of life, it's time to consider moving. If you're just ready for a change, that's a good reason, too. Some people are simply tired of their old homes and want to move on.
2. Your home is already one of the nicest in the neighborhood.
Regardless of the improvements you might make, location largely limits the amount of money you can get for your home when you sell. A general rule of thumb for remodeling is to make sure that you don't over-improve your home for the neighborhood. If your property is already the most valuable house on the block, additional upgrades usually won't pay off in return on investment at selling time.
3. There is a good chance you will move soon anyway.
If your likelihood of moving in the next two years is high, remodeling probably isn't your best choice. There's no reason to go through the hassle and expense of remodeling and not be able to enjoy it. It may be better to move now to get the house you want.
4. You need to make too many improvements to meet your needs.
This is particularly an issue with growing families. What was cozy for a young couple may be totally inadequate when you add small children. Increasing the space to make your home workable may cost more than moving to another house. In addition, lot size, building codes, and neighborhood covenants may restrict what you can do. Once you've outlined the remodeling upgrades that you'd like, a real estate agent can help you determine what kind of home you could buy for the same investment.
5. You don't like remodeling.
Remodeling is disruptive (see our article, The Four Phases of Remodeling). It may be the inconvenience of loosing the use of a bathroom for a week, or it can mean moving out altogether for a couple of months. Remodeling also requires making a lot of decisions. You have to be able to visualize new walls and floor plans, decide how large you want windows to be, and where to situate doors. Then there is choosing from hundreds of flooring, countertop, and fixture options. Some people love this. If you're not one of them, it is probably easier to buy a house that has the features you want already in place.
---
FIVE REASONS TO REMODEL:
1. You love your neighborhood.
You can walk to the park, you have lots of close friends nearby, and the guy at the espresso stand knows you by name. There are features of a neighborhood, whether it's tree-lined streets or annual community celebrations, that you just can't re-create somewhere else. If you love where you live, that's a good reason to stay.
2. You like your current home's floor plan.
The general layout of your home either works for you or it doesn't. If you enjoy the configuration and overall feeling of your current home, there's a good chance it can be turned into a dream home. The combination of special features you really value, such as morning sun or a special view, may be hard to replicate in a new home.
3. You've got a great yard.
Yards in older neighborhoods often have features you cannot find in newer developments, including large lots, mature trees, and established landscaping. Even if you find a new home with a large lot, it takes considerable time and expense to create a fully landscaped yard.
4. You can get exactly the home you want.
Remodeling allows you to create a home tailored exactly to your lifestyle. You have control over the look and feel of everything, from the color of the walls to the finish on the cabinets. Consider also that most people who buy a new home spend up to 30 percent of the value of their new house fixing it up the way they want.
5. It may make better financial sense.
In some cases, remodeling might be cheaper than selling. A contractor can give you an estimate of what it would cost to make the improvements you're considering. A real estate agent can give you prices of comparable homes with those same features. But remember that while remodeling projects add to the value of your home, most don't fully recover their costs when you sell.
---
REMODEL OR MOVE CHECKLIST:

Here are some questions to ask when deciding whether to move or remodel.
1. How much money can you afford to spend?
2. How long do you plan to live in your current home?
3. How do you feel about your current location?
4. Do you like the general floor plan of your current house?
5. Will the remodeling you're considering offer a good return on investment?
6. Can you get more house for the money in another location that you like?
7. Are you willing to live in your house during a remodeling project?
8. If not, do you have the resources to live elsewhere while you're remodeling?
If you have questions about whether remodeling or selling is a wise investment, or are looking for an agent in your area, we have professionals that can help you. Contact us here.
---
© Copyright 2019 Windermere Mercer Island. Adapted from an article originally published on Windermere.com.